Basics of outdoor advertising: What is outdoor advertising?
Kalevala Koru launched a new service concept with digital outdoor advertising
Link to the material instructions
Planning guides
Get to know our outdoor advertising products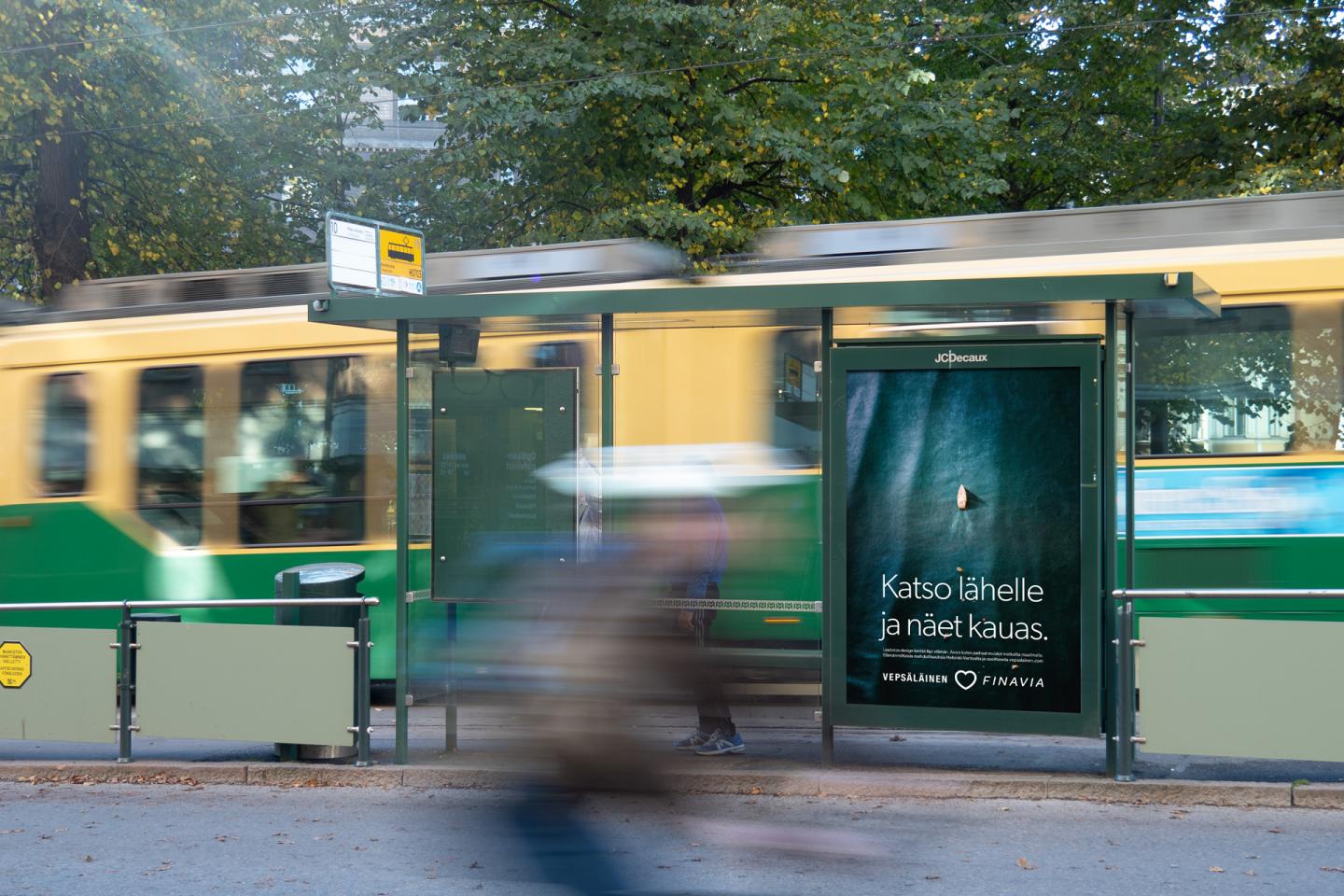 Abribus
Abribus is our popular traditional product, it builds your brand nationally or locally. It offers the best coverage and reproduction in Finland's largest cities. Abribus posters can be found where people move, for example at bus stops, near shops or in city centers.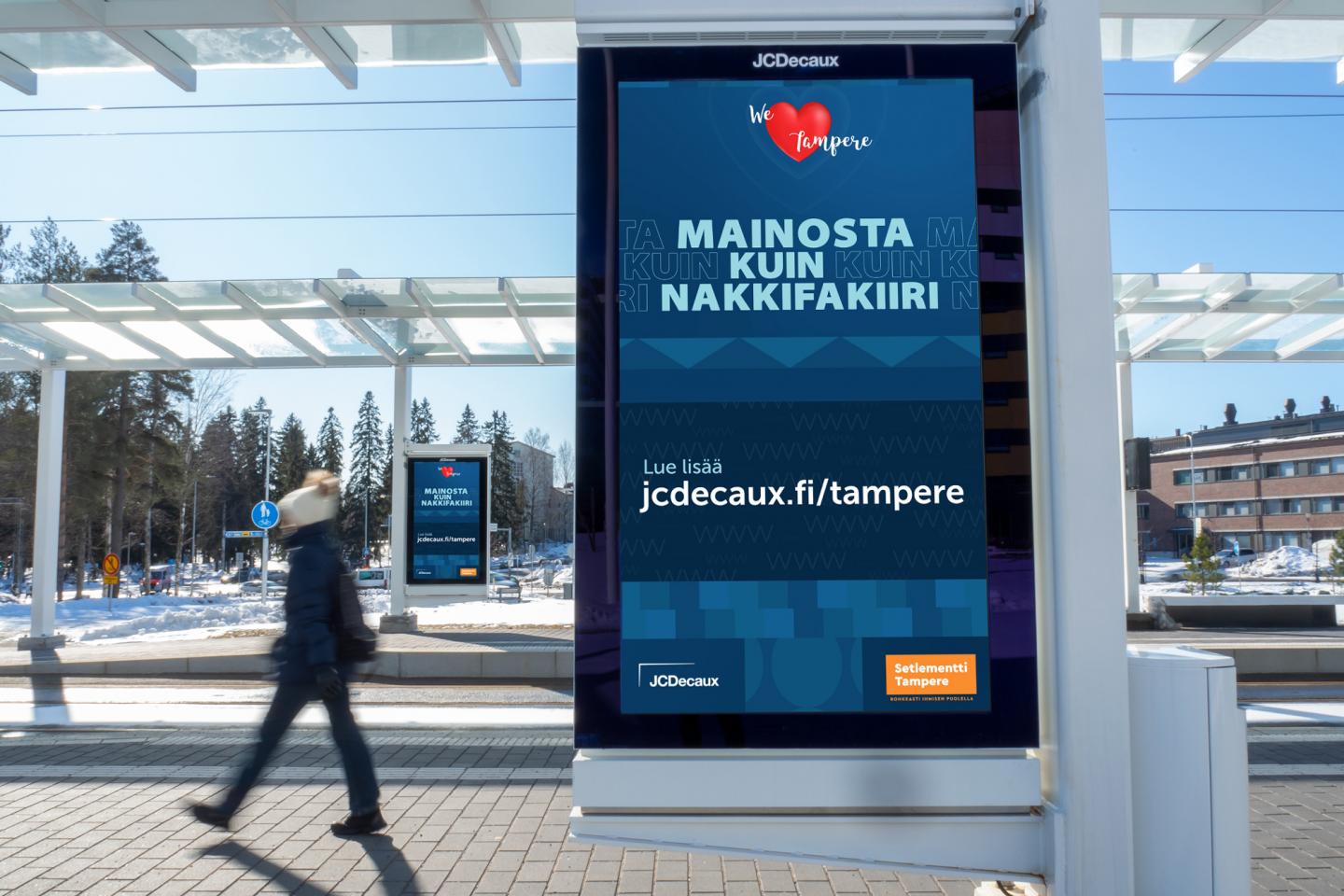 Digital OOH
Flexible urban digital OOH captivates audiences effectively and measurably throughout Finland. Choose the solution that suits your needs, from a single display center, Digihub, to a wider area of ​​influence, in one or more cities. Take advantage of the possibilities of digital outdoor advertising for inspiring, attention-grabbing content on the go.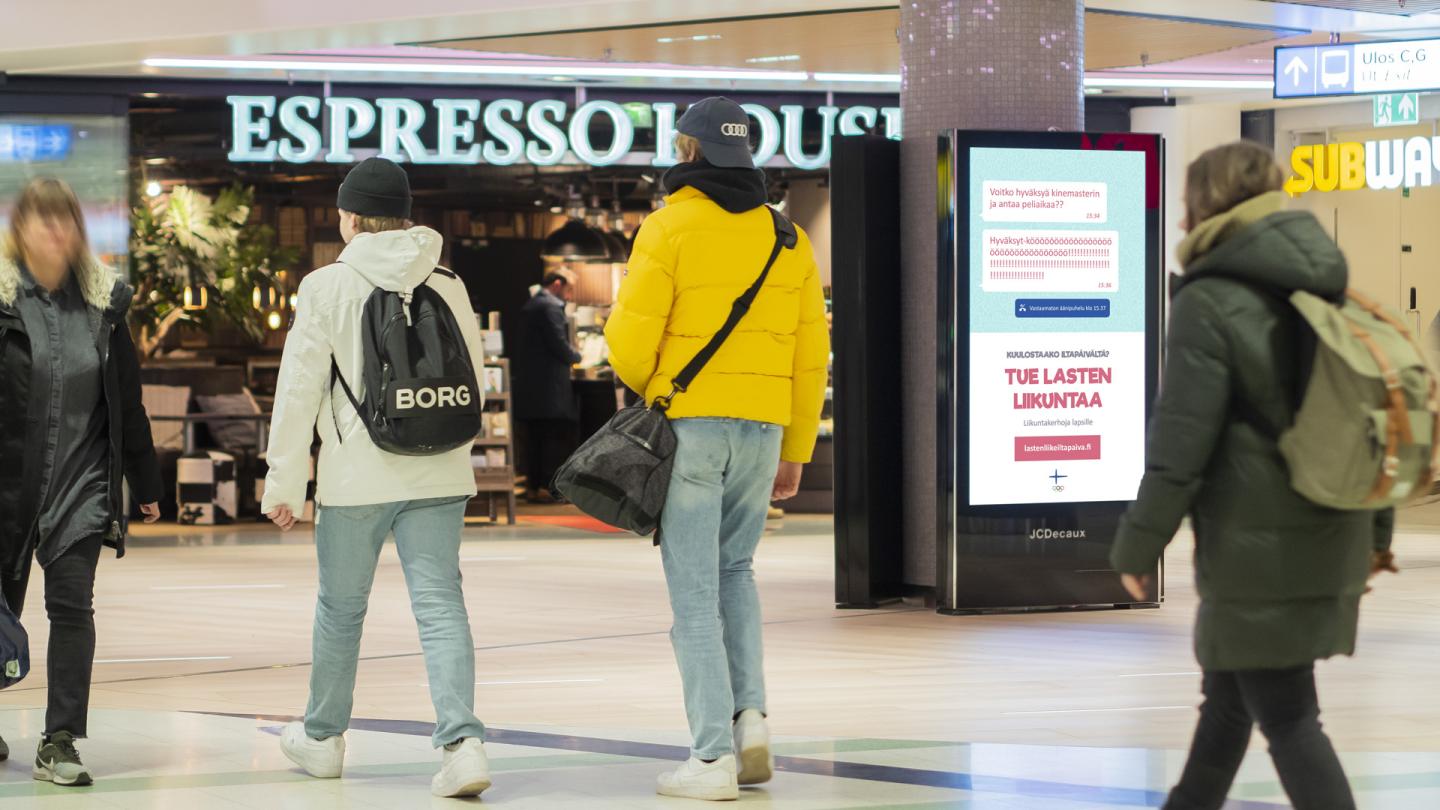 Shopping centers
Visibility in Finland's largest shopping centers. The Digital hubs in the area of ​​influence are located in the most interesting shopping centers, in the best places and are dedicated to commercial purposes only, so your message is transmitted without interruption.
In shopping centers, you digitally reach consumers who are in a buying mode, when they have time to delve into the content.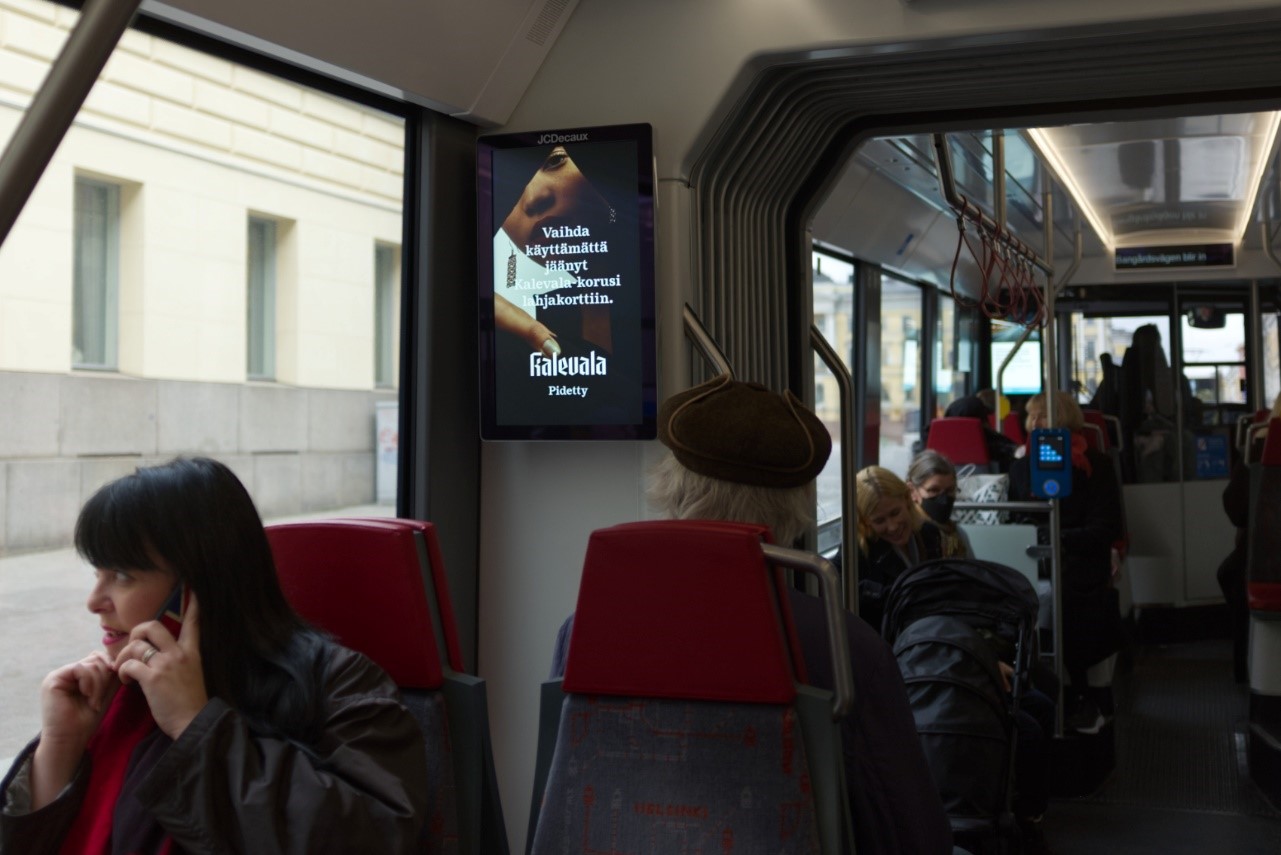 Trams
On the tram and at the stops, the public has time to concentrate on following the advertising more closely. Whether it's a fully taped trolley, a stop page or digital screens inside trams, with a trolley you can reach both passengers and other people on the road.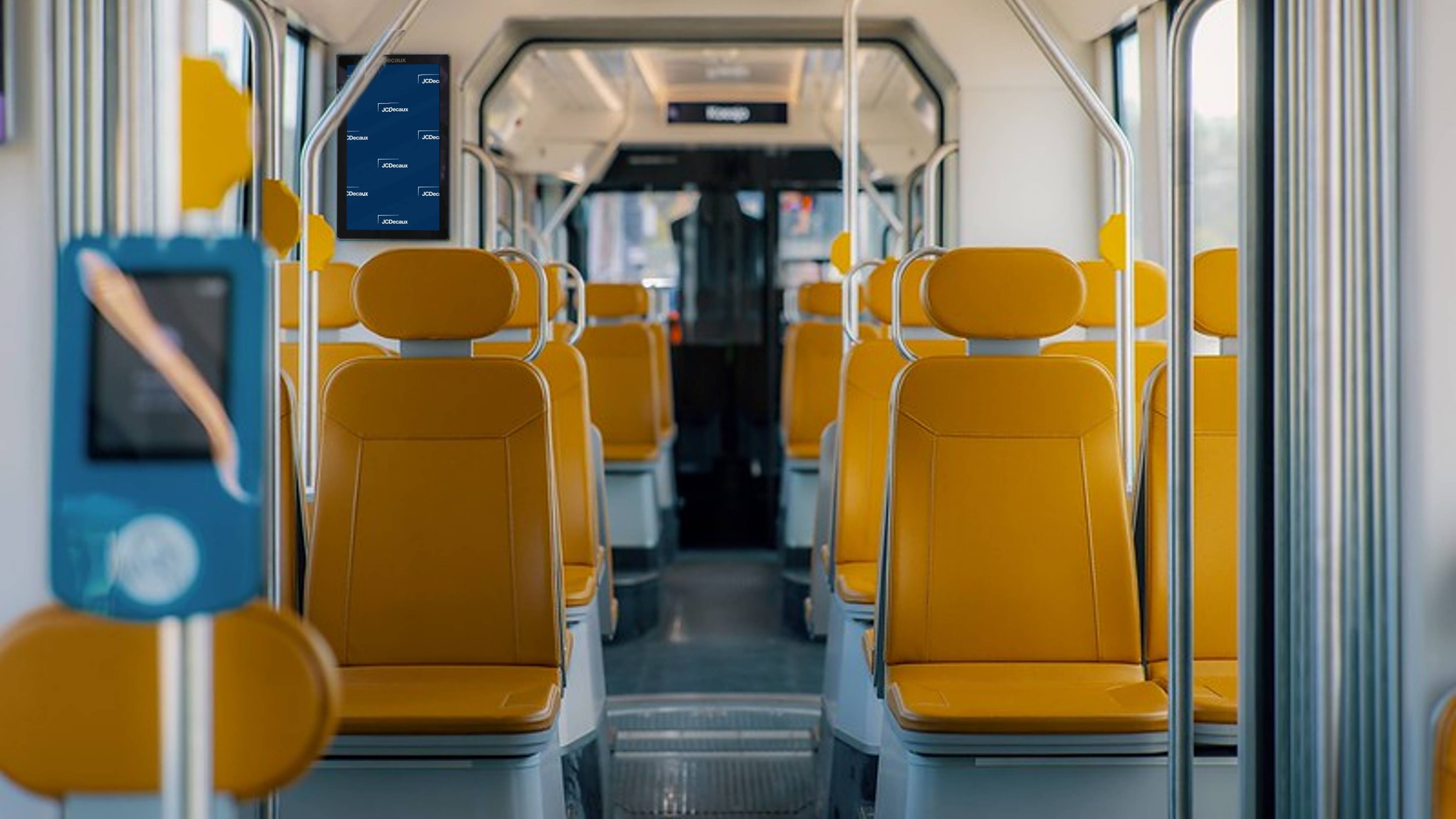 Light Rail 15
Reach the public on the tracks of Light Rail 15 from Helsinki Itäkeskus to Espoo Keilaniemi. This new kind of media environment is a high-quality meeting place for the public and your brand without other media noise.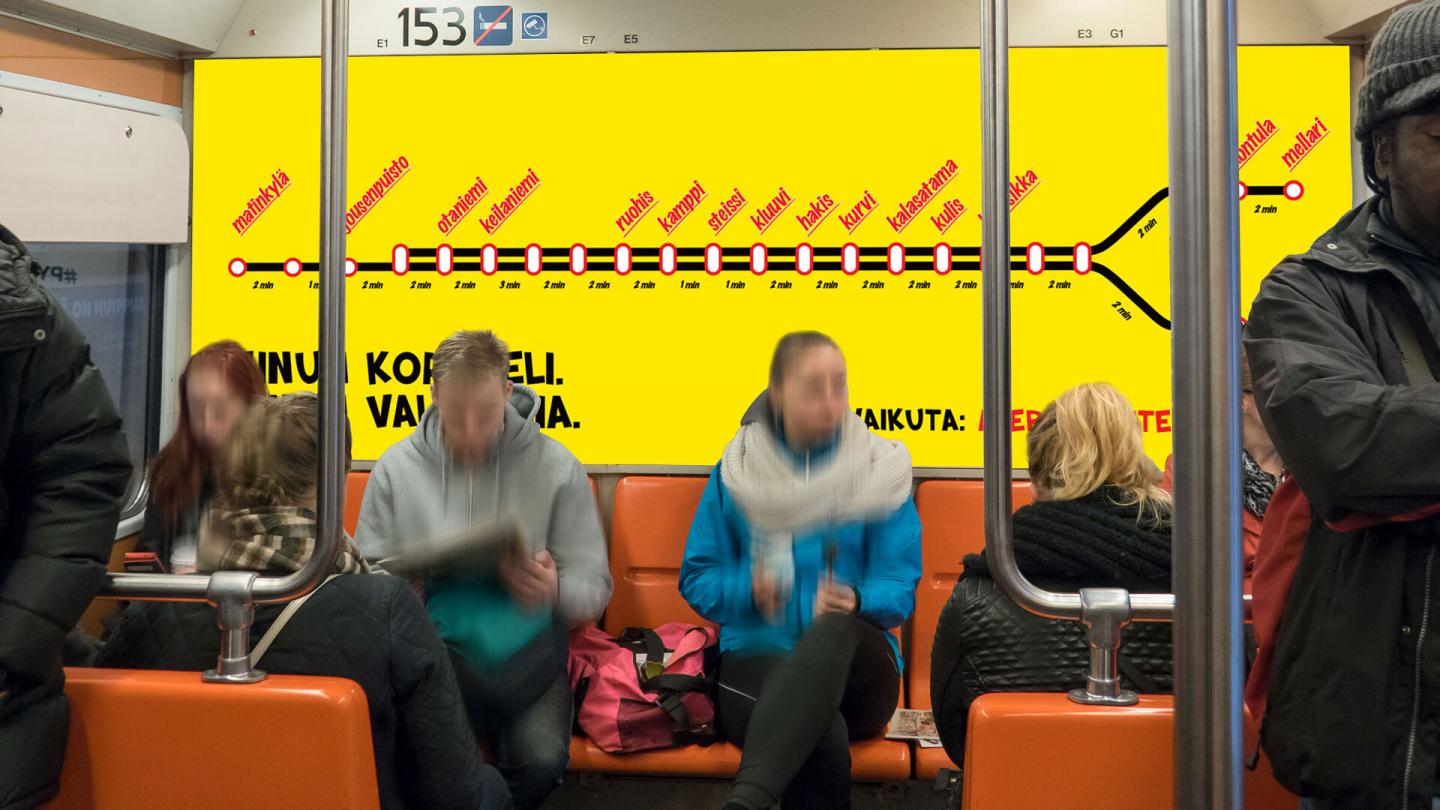 Metro
In the areas influenced by the metros, you are involved in the everyday life of the people of Helsinki and Espoo on the move, when they have time to concentrate.
Metro advertising is a cost-effective and agile digital way of advertising, and in addition to the carriages, you can also use the digital advertising surfaces of the stations to build a visual advertising package.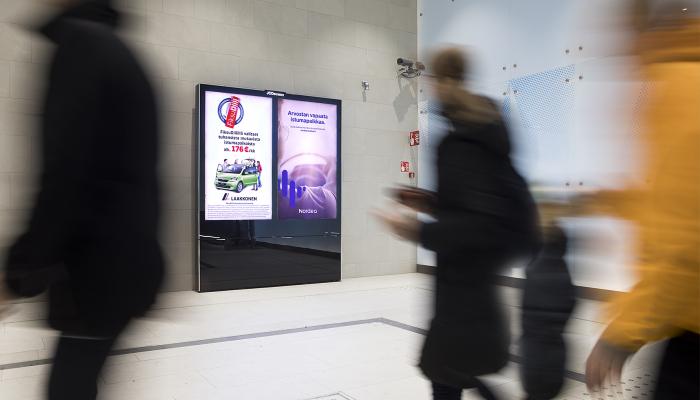 Metro stations
In the areas influenced by the metro stations, you are involved in the everyday life of the people of Helsinki and Espoo. By utilizing the digital advertising surfaces of metro stations, you can easily build an impressive advertising package, for example locally at the stops that are important to you.
In the capital region, 79% of people use public transport every week.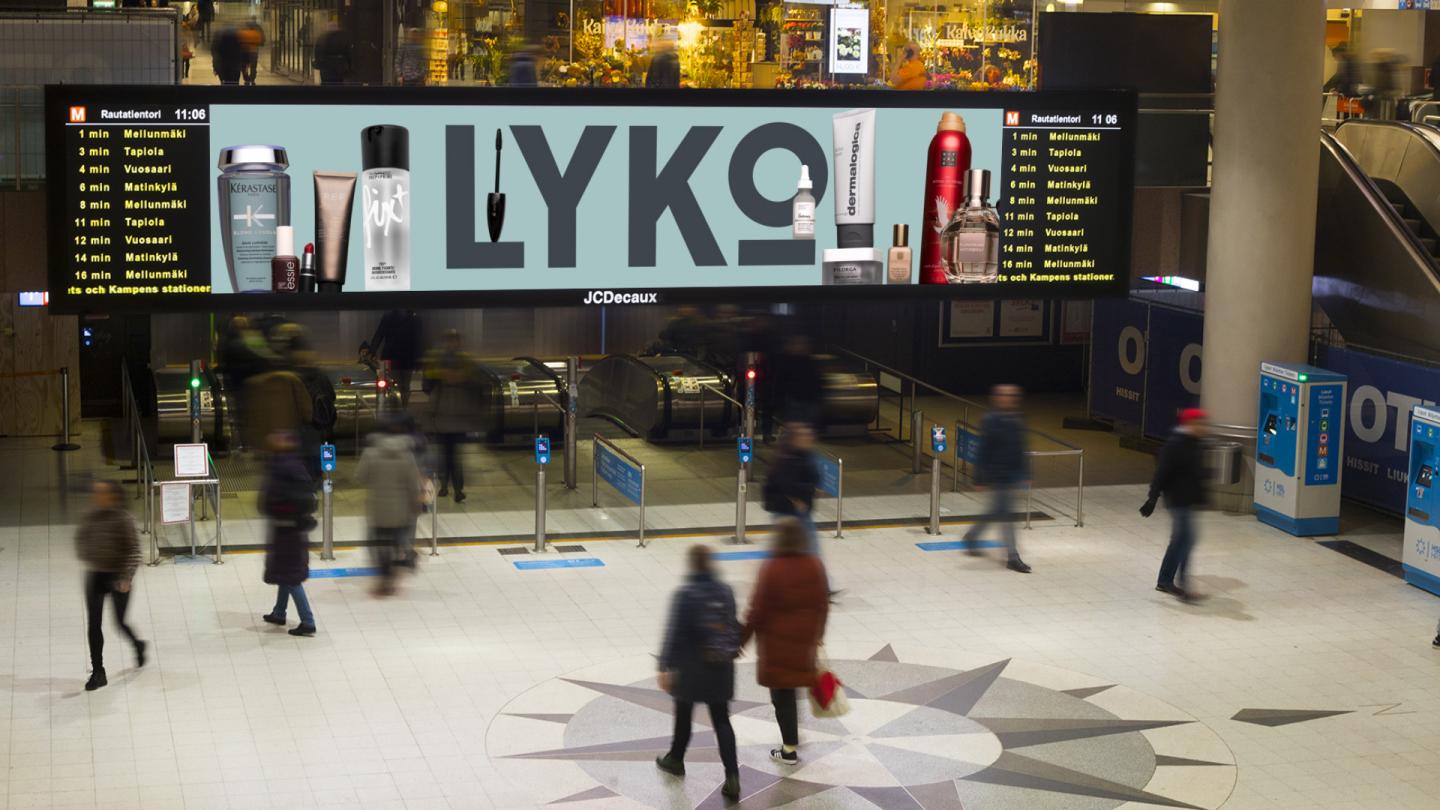 Compass Rautatientori Helsinki
Compass Rautatientori is a huge, 16-square-meter digital screen that enables advertisers to build a brand and create phenomena in one of the busiest locations in the city center. Rautatientori Compass level attracts consumers' attention at the hub of public transportation in the heart of the main train station, Central railwas Station and Eliel bus terminals and downtown shopping centers.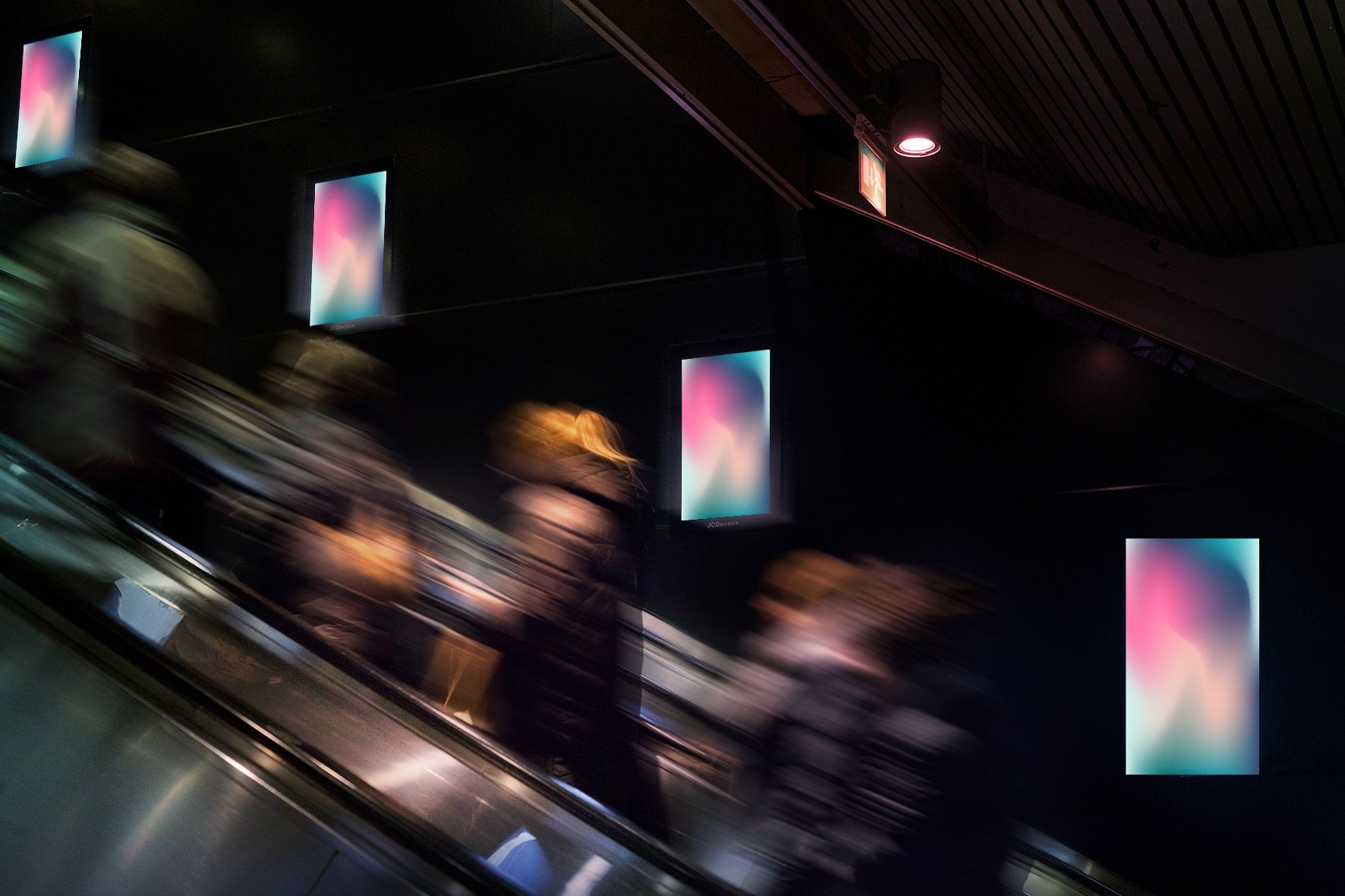 Rautatientori DEP
At DEP Rautatintori, you walk the journey of the mobile consumer with the power of 32 digital surfaces. At the same time, moving screens attract attention and cheer up everyday life on the go. High-quality digital surfaces remain in the minds of city dwellers, they offer the advertiser the opportunity to present the brand elegantly along the consumer's journey.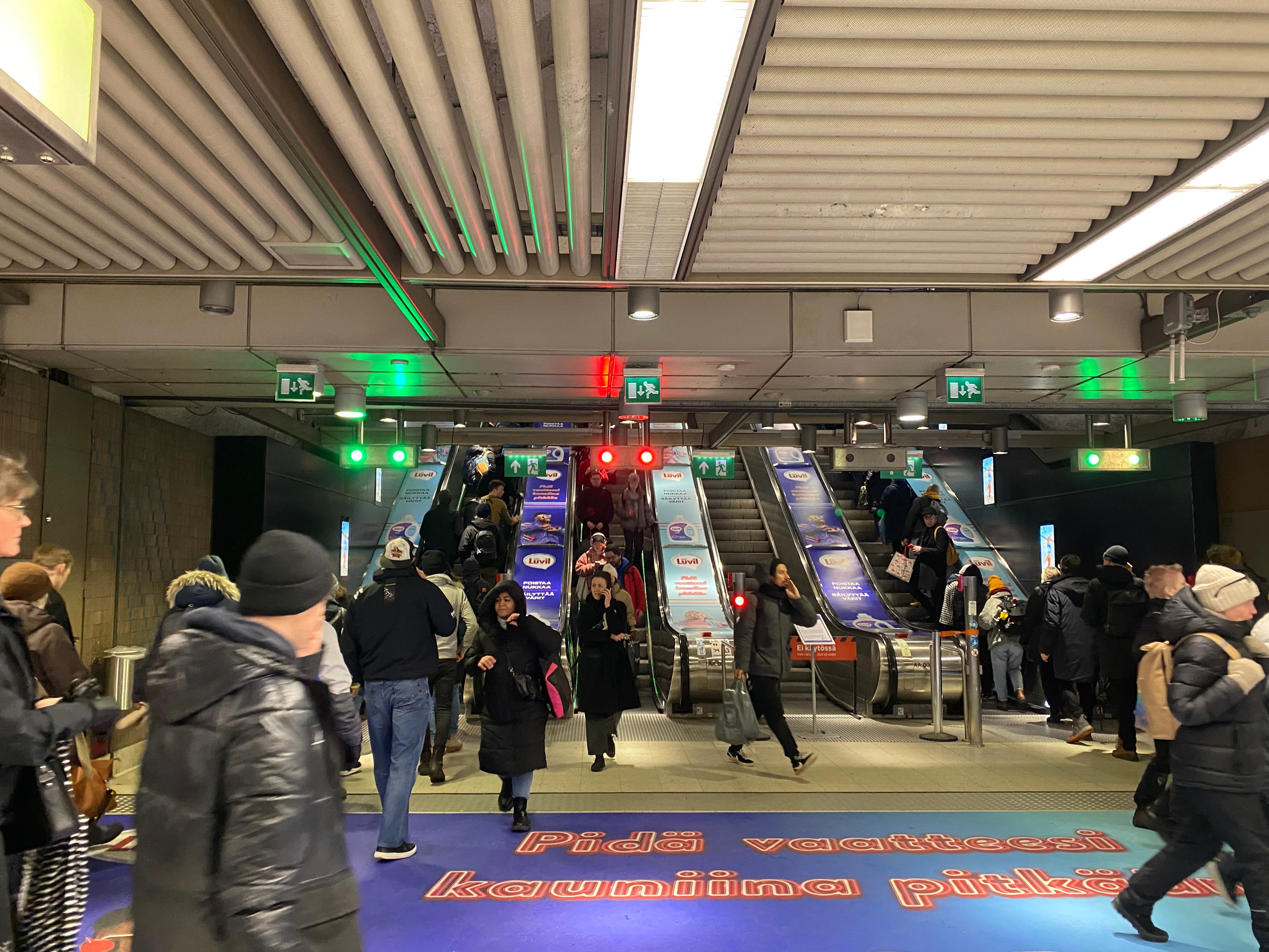 Custom tapings
During our nearly 80-year history of outdoor advertising, we have implemented hundreds of fully taped advertising trams, dozens of advertising in metro carts, and large quantities of different taped advertising solutions for metro stations, for example, such as floor stickers and handrail taping.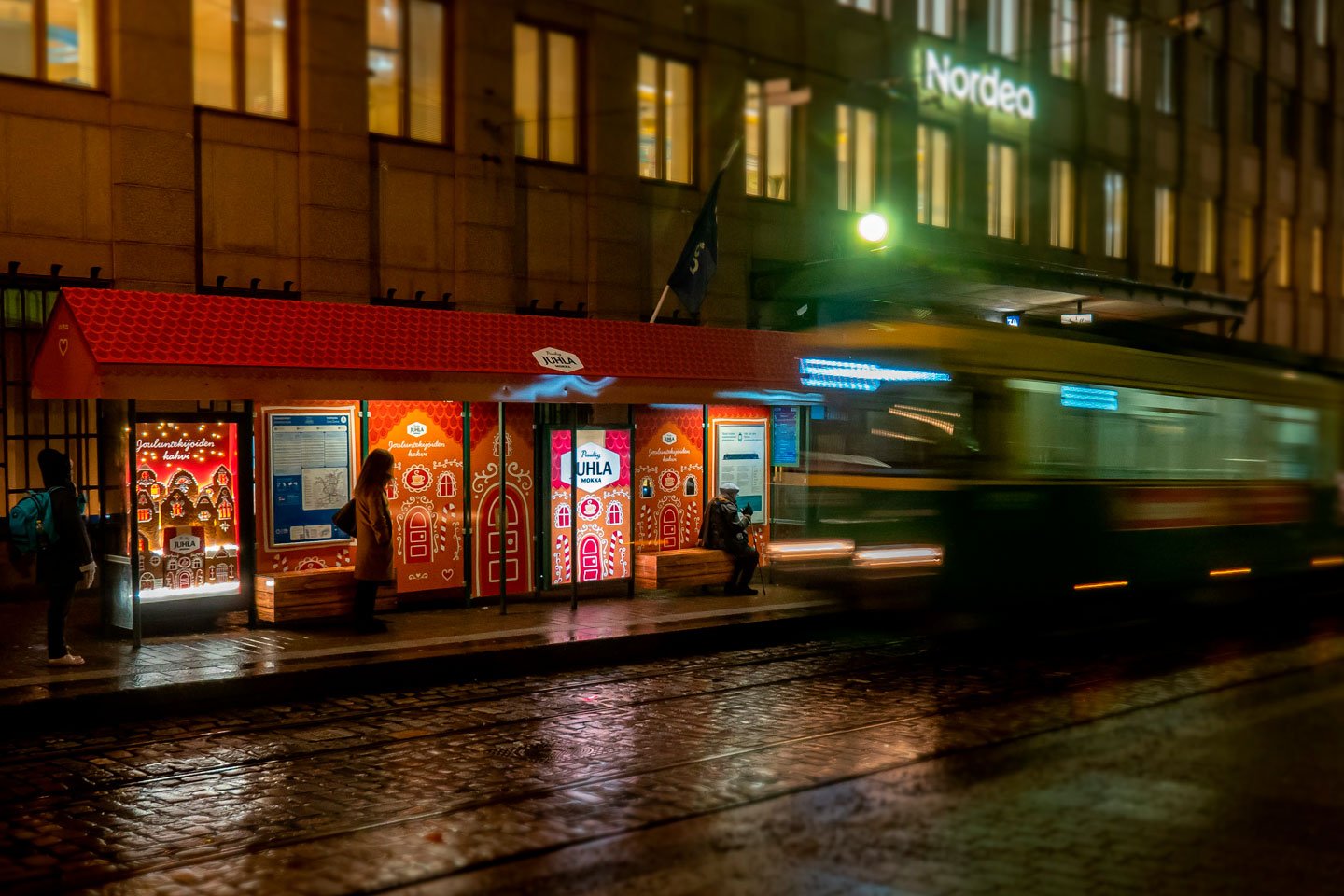 Innovate solutions
JCDecaux Finland's Innovate team offers customized Out-of-Home campaigns that take ready-made ideas from concept to reality. Creative solutions offer attention-grabbing campaigns in all environments, from special structures and mobile interaction to virtual reality. Our Innovate team builds effective brand communication with unique and memorable campaigns that always challenge the public's expectations and practices in outdoor advertising.
Product search and pricing
Why advertise outdoors?
Emotional encounters in an urban environment!
Are you looking for ways to get your brand in front of your target audience more often? Do you want to cost-effectively increase the number of impressions to get customers to buy your product faster? If so, your solution is outdoor advertising.